● Samples of products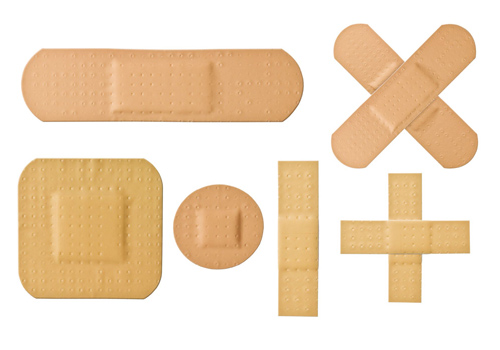 1. Introduction:
Vertical hobbing band-aid packaging machine is a new dedicated device specially designed and manufactured for hygienic material manufacturers.
Electromechanical-pneumatic integrative design, touch screen operation, PLC control, and full servo drive.
2. Production workmanship:
Uncoiling---adhesive plaster peeling---adding absorbent pad---covering with release paper---band-aid hobbing---band-aid packaging---packaging bag dotted line hobbing---packaging bag contiguous (rolling) cutting off---conveyor (contiguous band-aid counting, step-by-step) output---manual box packing.
3. Equipment use:
It is suitable for band-aids of various specifications.
It is suitable for base materials of cotton cloth, PE adhesive tape, PU adhesive tape and so on.
4. Brief description of main technical parameters and structure:
| | |
| --- | --- |
| Model | LSGQCBJ-1 |
| Max diameter of material coil | 400mm |
| Max width of adhesive tape | 85mm |
| Band-aid max width | 78mm |
| Cartoon positioning | Color code tracing |
| Packaging max width | 100mm |
| Feeding device | Servo drive |
| Packaging speed | 0—2000p/min |
| Packaging positioning | Color code tracing |
| Packaging mode | Rolling cold-sealing |
| Uncoil tension | Constant tension control |
| Adhesive plaster uncoiling rectification | Automatic rectification device |
| Conveyor | Step-by-step, counting conveying |
| Machine power | 9KW |
| Power source | 380V |
| Overall dimension | 2200*1300*1900mm |