● Layout drawing of KGL Automatic Capping Machine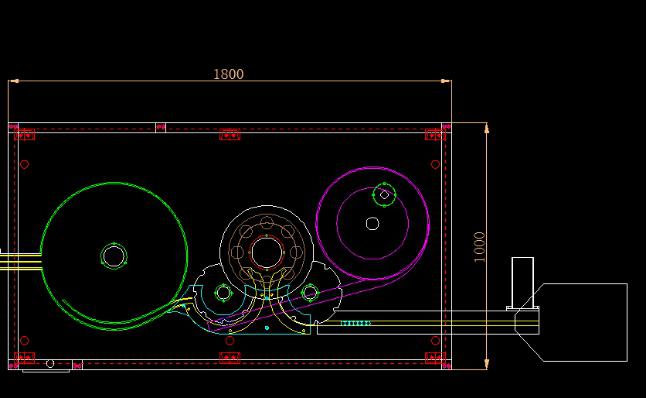 ● Brief introduction
KGL series capping machine is one of the main equipment which is mainly aimed at the vials of sterilized powder, liquid lyophilized preparation, and blood products, it can be used to seal all kinds of round glass bottles with aluminum caps. The main working principle is the sealing method which adopts the soft and continuous rolling of three cutters to curl the bottom of the aluminum caps, it blocks the top of antibiotic vials by repeated up and down movement of the capping head, the cap head blocks the bottle opening, and the cutters press the aluminum caps with accumulated pressure to make the aluminum caps wrap the bottle opening tightly. Electromagnetic oscillation aluminum caps supplying can make caps automatically feed, open and cover, the stopper of the glass bottles will not loose and with good tightness after capping. The main structure is composed of bottle in-out unit, capping head, aluminum oscillation plate, caps feeding unit, vials location and separating plate, location unit, and inner transmission mechanism.
● Description of equipment working principle:
the bottles will be sent to bottle feeding drive plate of the capping machine after stoppering --the caps will be hung on the bottles on the drive plate, at the same time, the bottles will be sent to the bottle plate of the capping machine after hung with caps--bottles on the plate is static, the rotary capping head drops automatically and the cutters tighten and spin to cap the bottles--after capping, bottles will be sent to out orbit through bottle out drive plate--bottles will be sent to next process through transport orbit.
● Main parameters of children resistant capping machine
NO.
Name
Parameters
1
Specification of suitable bottles
60ml-120ml plastic bottles
2
Designed production capability
60ml Plastic bottles: 10.0g,
150 Bottles/Minute;
120ml Plastic bottles;75.0g,
60 Bottles/Minute;
3
Stable production capability
60ml Plastic bottles: 10.0g,
120 Bottles/Minute;
120ml Plastic bottles;75.0g,
50 Bottles/Minute;
4
Breaking rate
≤1%
5
Qualified capping rate
99.90%
6
No bottle no capping rate
100%
7
Counting function
High accuracy on counting,
deviation ≤0.01%
8
Speed control
Variable speed adjustment