● Features:
1. 16 tunnels with 2 hoppers
2. It adopts the channel vibration to feed in uniform speed, working reliable, stable and lower noise. BPS-D16 uses three-stage vibration plates.
3. It uses special photoelectric sensors with dust resistance and dust box avoid pollution. Besides, it can clean the dust from tablets, capsules... automatically.
4. Photoelectric sensor will count automatically and correctly, the error is under the national standard.
5. It is equipped with several safety protection devices, like photoelectric sensor detecting lacking bottle, blocking bottle.
6. Easy to operation and clean. Any part that contacts with drug is made of stainless steel or nontoxic, non-metallic material with good chemical properties. These parts are polished with high-precision.
● Main Technical Parameter:
| | | |
| --- | --- | --- |
| No. | Item | Parameter |
| 1 | max production speed | 9000 pcs/min, depends on drug type, diameter of bottle mouth... |
| 2 | quantity per bottle | 2-9999 pcs, set at random |
| 3 | diameter of bottle mouth | 20-100 mm |
| 4 | voltage/frequency | 220v/50hz |
| 5 | power | 1400w |
| 6 | air pressure | 0.6MPa |
| 7 | dimension | 2200×1600×1700mm |
| 8 | weight | 680kg |
● Details of the machine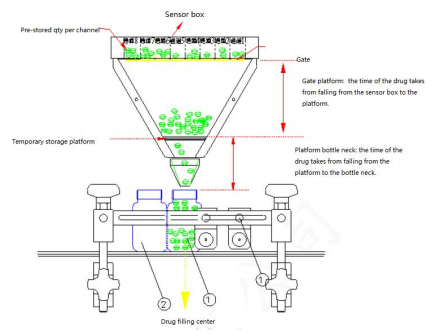 The drug moves in line and falls into the corresponding photoelectric box. In the boxes, the photoelectric counting will count the drug automatically. Under each photoelectric box, these is a lane with a gate. When the drug reaches the required quantity, the gate will close. When the empty bottle comes, the gate opens immediately to let drug fall down.
In addition, the machine is equipped with bottle lacking and blocking photoelectric sensor. When it happens, device will automatically stop, ensuring the security of production, and at the same time, saving electricity consumption and reducing production cost. The device is also equipped with Siemens touchable human-computer interface.
Dozens of groups of parameters can be set within range and saved for easy use.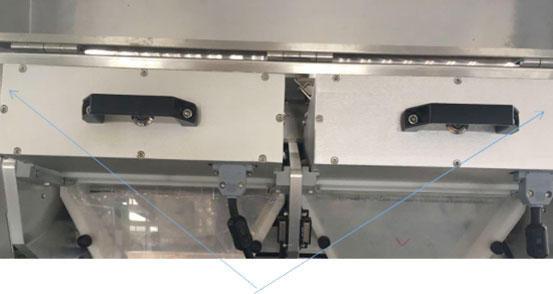 There is a box below holes to collect dust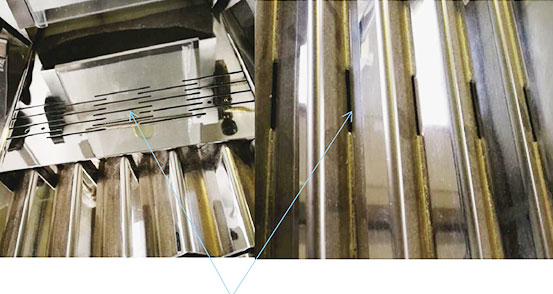 There is a dust blowing device in the box for drug dropping into bottles.
● Main Electrical Configuration
| | | | |
| --- | --- | --- | --- |
| No. | Name | Model | Brand |
| 1 | solenoid valve | 44C | MAC |
| 2 | Intelligent FM vibration feeding controller | SDVC34-MR | Tiger Excellence |
| 3 | counting device | IMS.CMXYT8.3.NPN | China |
| 4 | power | AHPS05-5A | Taida |
| 5 | PLC | AH500 | Taida |
| 6 | switch power | DVP-PS05 | Taida |
| 7 | power output module | YMG-16P0F1-24 | Taida |
| 8 | power output module | YMG-12P0F1-24 | Taida |
| 9 | human-computer interface | DOP-B07S411 | Taida |
| 10 | inverter | DVP-EL | Taida |
| 11 | fixture cylinder | CM2E25-50Z | SMC |
| 12 | cylinder | CJ2YB16-35Z | SMC |
| 13 | cylinder | CJ2YB16-45Z | SMC |
| 14 | cylinder | CJ2YB16-40Z | SMC |
| 15 | solenoid valve | SY5120-5L-01 | SMC |
| 16 | solenoid valve | SY3120-5L-M5 | SMC |
| 17 | air filtering assembly | AW30-03BG-B | SMC |
| 18 | relay | AHN22324N | Panasonic |
| 19 | photoelectric switch | E3Z-61D | Omron |
| 20 | Button Module(emergency stop) | ZB2-BS54C | Schneider |
| 21 | Normal Open | ZB2-BZ101C | Schneider |
| 22 | motor | 5RK60GN-SF | Maili |