Application
MHS Series High Shear Mixer is one of the standard process equipments in the solid dosage production procedure in pharmaceutical industry, and is also widely used in chemical, foodstuff industries, etc.
This equipment has functions of mixing, granulation and mill.
Features
1. This equipment can process mixing, granulation and wet mill in the material container, to ensure good mixed efficient granulation it equipped with advanced M28 impeller. It can still obtain good effect when specific weight difference between main medicine and auxiliary medicine are great.
2. Solid grain, with uniform grain size and high product yield.
3. With high working efficiency, it can work with fluid bed dryer
4. Designed with granulation end-point detection function, satisfies with the process reproducibility request.
5. Compound mechanical& air sealing structure avoid any material leakage and cross contamination, compliance with cGMP , FDA requirements.
6. To meet the different process requirements for mixing and granulation, double-layer trough jacket-kettle can be used to heat or cool the materials.
7. Blender can be added through pressure or atomization method.
8. WIP on line cleaning is optional.
Layout Drawing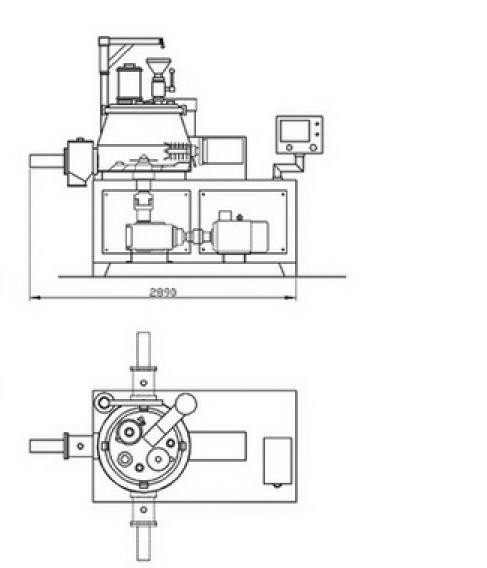 Main Technical Parameters
Items
Unit
Model/Specification
Volume
L
MHS-50
MHS-100
MHS-250
MHS-300
MHS-400
MHS-600
MHS-800
MHS-1000
Working volume
L
50
100
250
300
400
600
800
1000
Capacity
kg
10.22
25-35
75-110
90-120
120-200
240-300
280-350
300-500
Mixing impeller speed
rpm
25-500
6-200
6-200
6-200
5-160
5-160
5-160
5-160
Motor power
kw
5.5
11
18.5
22
30
37
45
55
Chopper speed
rpm
300/3000
300/3000
300/3000
300-/1500
150/1500
150/1500
150/1500
150/1500
Motor power
kw
4
5.5
7.5
7.5
11.5
11.5
15.5
18.5
Overall dimension
mm
1900x700x1600
1900x750x1600
2300x950x2125
2600x950x2275
2700x1200x2750
3600x1450x3500
3600x1450x3500
3600x1450x3500
The height of discharge hole
mm
800
800
850
900
900
1100
1100
1100
Weight
kg
500
1050
1350
2100
2360
2560
2560
2560