● Suppository Products Samples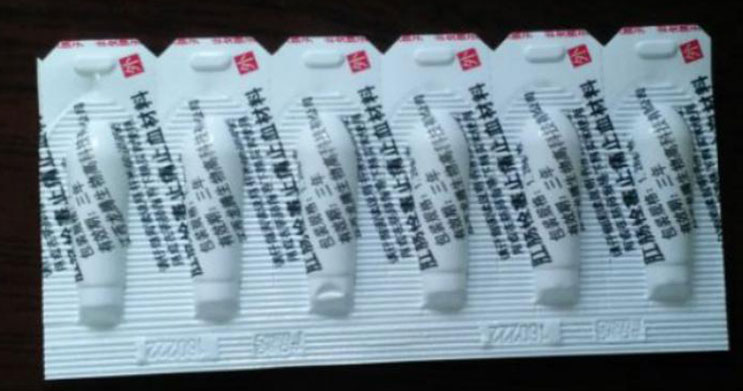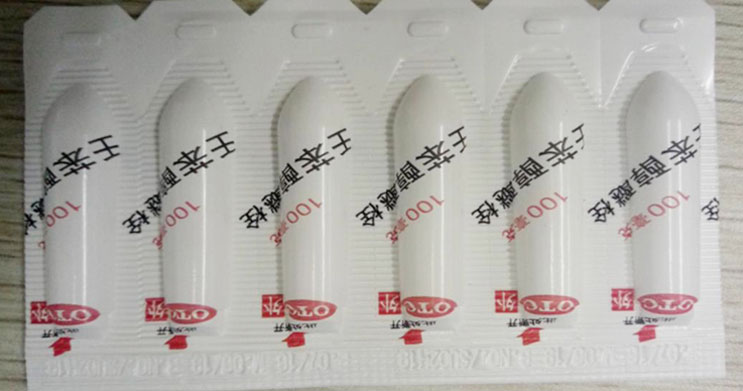 ● Technical Parameters
Output
8000—11000 granules/hour (center distance 17.4)
Single dosage
0.5—5ml
Dosage allowed
<±2%
Suppository application form
Bullet-head form、torpedo form、duck-mouth form
and other special forms
Applicable to the host
Synthesis of glycerin fatty acids、glycerin gelatin、polyethylene glycol etc.
Capacity of the liquid barrel
100L
Working atmospheric pressure
0.6Mpa
Consumption gas/minute
1.5m3
Used water quantity
50kg /hr(cycle using)
The voltage of the power
The three phase AC 380V
Total power
7.5KW
External dimension
3100mm×3480mm×2000mm
Total weight
2000kg
● Whole Machine Operating Principle
1. Forming part:
Film material on the film s plate(PVC/PE)through the gripping agencies into forming area to preheating film——>forming mold——>blowing film——>blown film forming
triangle knife cut edge technology,the dotted line cut.
2. Filling part:
Seven nozzles filling,for forming suppository one time embedded filling,filling precision ± 2%,material barrel with electric-heating insulation system,top with a stirring motor so that drug keep uniform state,the drug in the barrel through cycle pump into filling nozzles,one time filling the remaining drug cycle through the other end of a raw material barrel to do the next filling.
3. Cooling part:
Filling the entire row of drug finished then into cooling frame,cooling box internal with chiller block,cooling wind through two condensers in the cooling box to cooling suppository on the cooling rack.
4. Seal tail and type code:
After cooling the solid suppository into sealing area:
pre-heat mold——>seal mold——>type mold.
Then cut the finished products a group for six granules or five granules
(according to customers requirement).
● Equipment advantage
1. PLC inspection function:
through PLC online monitoring function can inspect
automatic running fault and alarm as the same time show the reason of running
fault its convenient operator to remove the fault timely
2. The filling part with removing static electricity system:
Note:before forming shell reach filling place if without this device because trace drug
filling and close shell top position will along the shell wall climb up a small hill under
the static electricity function reach suppository sealing part will affect the quality of
behind the seal
3. Stirring barrel speed adjustable system:
Note:because of the drug material different and the viscosity different maybe
the same stirring result can not mix drug uniform before filling so that affect
finished suppository products drug content.
4. Cooling speed adjustable system:
Note:because of different drug different components maybe need different
cooling speed; when the cooling speed too slow will reduce the whole
machine production efficiency;if the cooling speed too high maybe due to
drug suddenly drop temperature then fracture therefore cooling speed
need adjustable
5. Shearing granules quantity can adjustable system:
Note:according to customer s requirement can convenient set up finished
products granules as 4/5/6/7granules.
suitable for PVC/PE material.
6. Carving print system
It can be printed according to customer's need.
● Photos of Machine in our Factory