● The Photos of Customer's Suppository Samples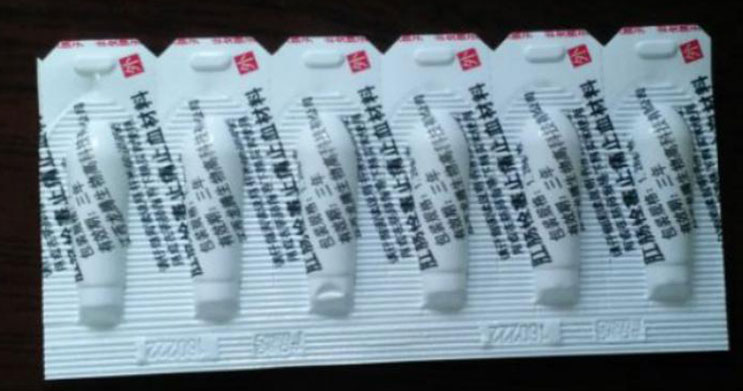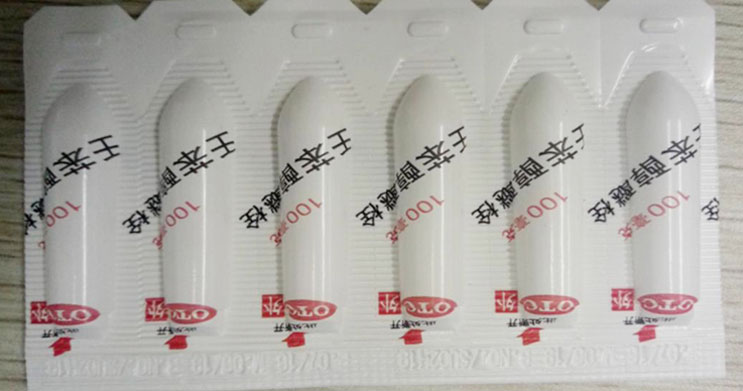 1.1 Machine working principle description
1.1.1 Forming part :
Film material on the film s plate (PVC/PE)through the gripping agencies into forming area to preheating film——>forming mold——>blowing film——>blown film forming.
1.1.2 Filling part :
Seven nozzles filling, for forming suppository one time embedded filling,filling precision±1%,material barrel with electric-heating insulation system,top with a stirring motor so that drug keep uniform state,the drug in the barrel through cycle pump into filling nozzles,one time filling the remaining drug cycle through the other end of a raw material barrel to do the next filling.
1.1.3 Cooling part :
Filling the entire row of drug finished then into cooling frame,cooling box internal with chiller block,cooling wind through four condensers in the cooling box to cooling suppository on the cooling rack。
1.1.4 Seal tail and type code :
After cooling the solid suppository into sealing area:pre-heat mold——>seal mold——>type mold。Then cut the finished products a group for six granules or five granules (according to customers requirement).
1.2 Equipment parts description
1.2.1 Forming part
This section is composed of film releasing plate, transferred fixtures, molding, trim the bottom edge, the dotted line cutting ,filling pump, material barrel, material circulation pump and segmentation cutter station, complete the film material forming and filling process.(Figure 6-1).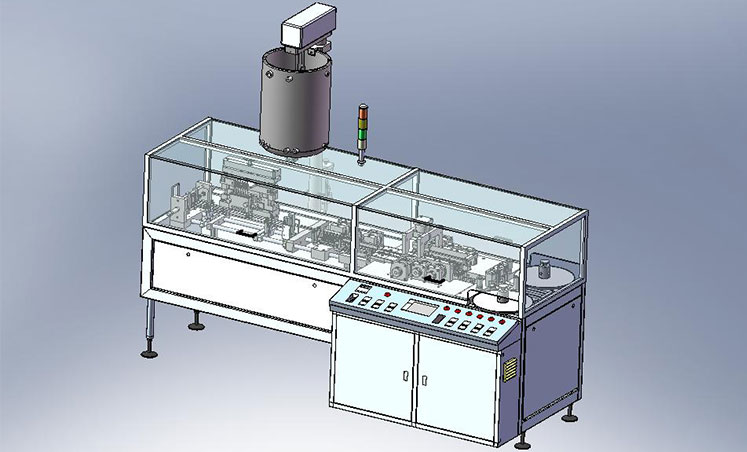 Figure 6-1 Forming and filling part Schematic
1.2.1.1 Forming

Packaging material from the discharge membrane disc through the guide rollers, transfer jig into the forming station, the station has a preheat, heating and forming mold, in addition, it is equipped with the corresponding slot docking mold (blow molds) for production use (Figure 6-2)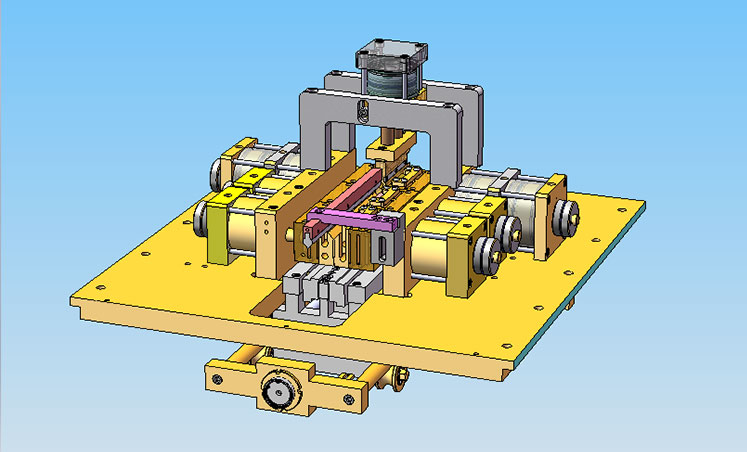 Figure 6-2 Molding diagram
Preheated mold in the first clampPVC production
Heating mold in the second clamp
Forming Mold in the third clamp
Butt mold and forming mold is vertical
1.2.1.2 Trimming the bottom and the dotted line cutting
Film material by forming station, by the knife trimming bottom(Figure 6-3)、 dotted line cutting(Figure6-4), such that it has a uniform bottom shape and conducive to into a single particle.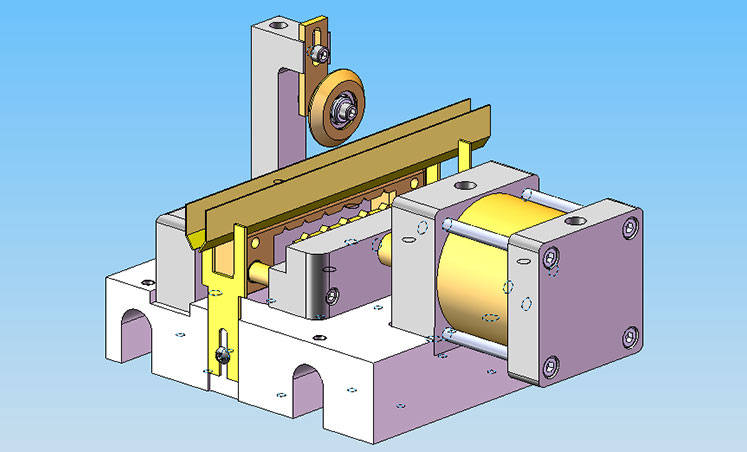 (Figure 6-3) Finishing bottom schematic diagram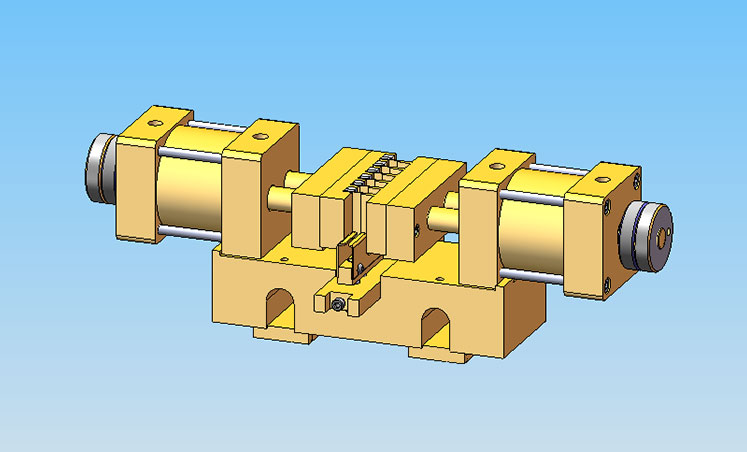 Dotted line cutting schematic diagram
1.2.1.3 Filling
Filling part consist of the filling pump, material barrels, stirrer, circulating pump,Complete the filling process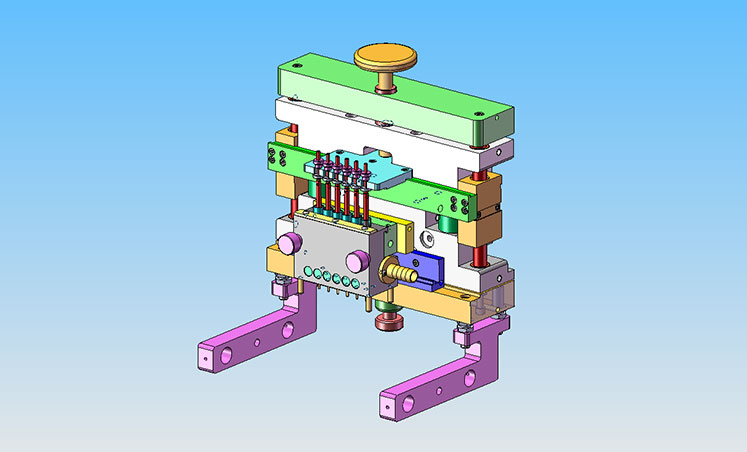 Figure 6-5 filling pump diagram
Filling pump body has many piston pumps, control the filling volume through the top of the handle , the lower part of the pump into the production by the need for 6,7 filling heads (Figure 6-5)
Feed the material into the material barrel, heating the element to maintain a certain temperature, the stirrer driven by the gear motor.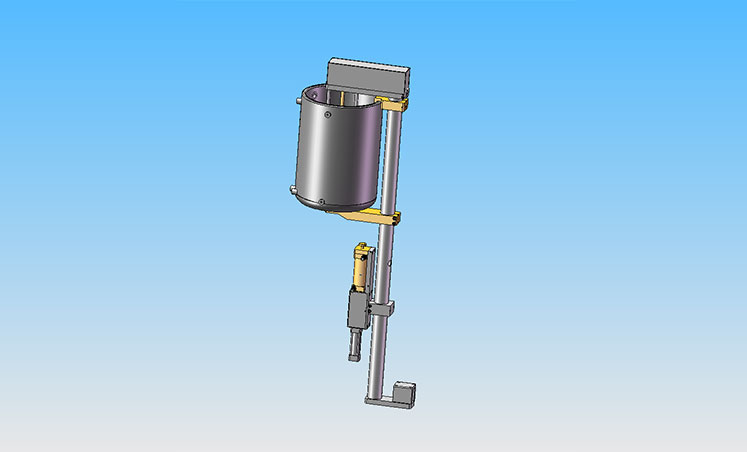 Figure 6-6 Material barrel, stirrer, circulating pump diagram
1.2.1.4 Segmented cutting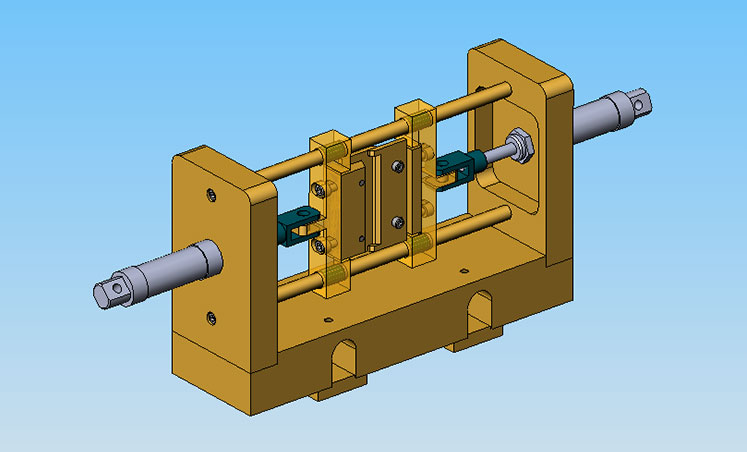 Figure 6-7 Segmentation cutting diagram
The film was cut into 30 pieces / strip or 28 pieces/strip(Figure 6-7)
1.2.2 Cooling box part
Consists of two groups of cooling tunnels and chillers to complete the curing process (Figure 6-8)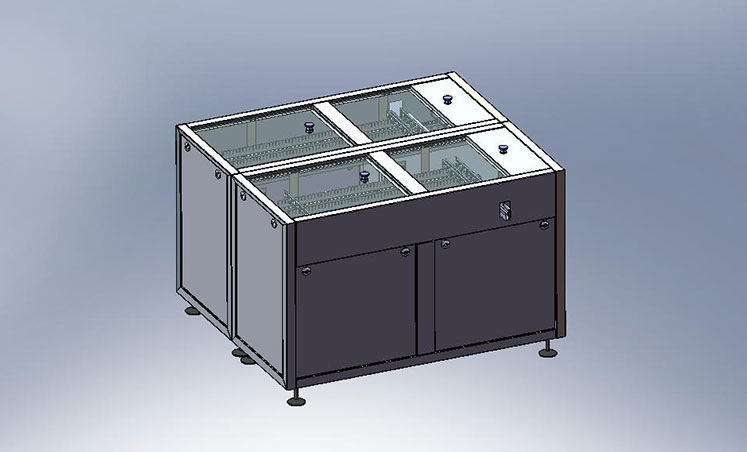 Figure 6-8 Schematic diagram of the cooling box
The segmented strip enters the cooling tunnel for gradual cooling, and the reciprocating motion of the circulator sends it to the sealing station (Figure 6-9)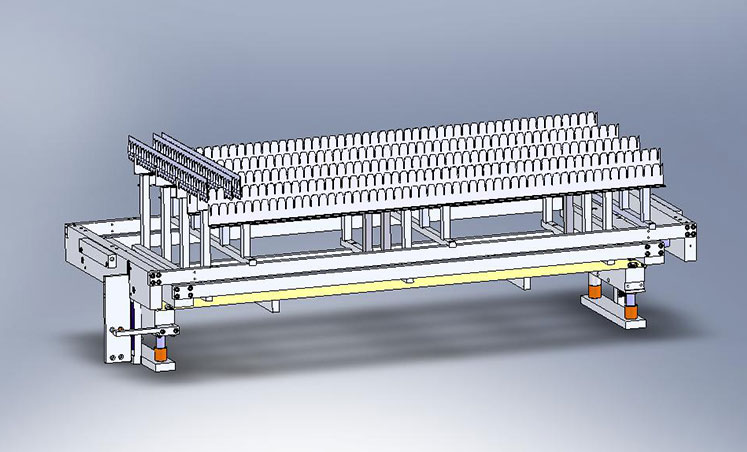 Figure 6-9 Schematic diagram of cooling tunnel
Cold water supply by the chiller, the cooling fan evenly dispersed, the temperature control in the 8 ℃ ~ 16 ℃
1.2.3 Sealing and cutting part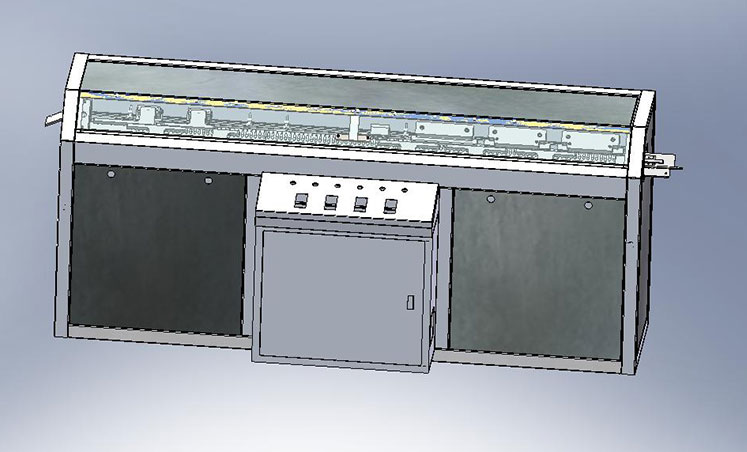 Figure 6-10 Sealing and cutting part diagram
The cured strip is enter the mold through the sealing jig to preheat,tail and print batch number, and then trim the top edge, And finally cut by the final cutting into the set suppository products
1.3 Equipment advantage:
1.3.1 PLC inspection function:
Through PLC online monitoring function can inspect automatic running fault and alarm as the same time show the reason of running fault its convenient operator to remove the fault timely
1.3.2 Filling part
Note:Equipped with static-free electricity system,before forming shell reach filling place if without this device because trace drug filling and close shell top position will along the shell wall climb up a small hill under the static electricity function reach suppository sealing part will affect the quality of behind the seal.Filling advantages, no hanging wall, no leakage, filling volume stability, easy adjustment, stable operation.Triangular knife edge, dotted line technology, triangular knife, dotted line fixed on the same fixed plate, triangular dashed line at the same time action, the lower triangle smooth and beautiful, clear line easy to tear line Save space, easy to adjust.
1.3.3 Stirring barrel speed adjustable system
Note:because of the drug material different and the viscosity different maybe the same stirring result can not mix drug uniform before filling so that affect finished suppository products drug content.
1.3.4 Cooling system
Note:because of different drug different components maybe need different cooling speed; when the cooling speed too slow will reduce the whole machine production efficiency;if the cooling speed too high maybe due to drug suddenly drop temperature then fracture therefore cooling speed need adjustable .Suppository strips enter the cooling box and cooling step by step , no extrusion, cooling effect is good, the cooling box covers an area of small, easy to repair.
1.3.5 Shearing granules quantity can adjustable system
Note:Note: Sealing is beautiful,steel letters are clear .according to customer s requirement can conveniently set up finished products granules as 4/5/6/7granules.
1.3.6 Equipment Overall advantages
Small size, low operating costs, stable operation, suitable for small and medium-sized laboratories and their research institutes needs.
1.4 KY-Z Technical Parameter
Output
8000-12000 granules/hr
Single dosage
0.5—5ml
Dosage allowed
<±2%
Suppository
Bullet-head form、torpedo form、duck-mouth form
application form
and other special forms
Applicable to the host
Synthesis of glycerin fatty acids、glycerin gelatin、
polyethylene glycol etc.
Capacity of the liquid
50L
barrel
Working atmospheric
0.6Mpa
pressure
Consumption
1.5m3/min
air/minute
Used water quantity
50kg /hr(cycle using)
Voltage
Three phase380V
Toltal Power
7.5KW
External dimension
6600mm×2000mm×1500mm
Total weight
2000kg
KA-150 Jacketed Preparation Vessel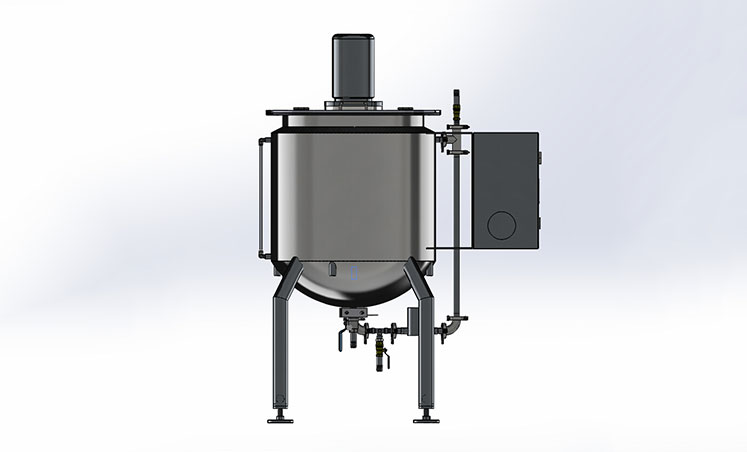 1. Technical Parameters
Volume
150L
tank materials
inner layer SUS316L, outer layer SUS304,
contact parts with materials: SUS316L
mixing type
high speed shear homogeneous emulsification head
range of application
Synthetic fatty acid glycerides, gelatin glycerin,
polyethylene glycol,etc.
mixing speed
2860r/min
heating type
electrical heating
mixing power
3KW
heating power
4.2KW
voltage
380V, 3 phases
total power
7.2KW
overall dimension
1210mm×750mm×1670mm(LxWxH)
packing dimension
1710mmx1250mmx2170mm(LxWxH)
total weight
200kg
temperature measurement
thermocouple PT100
low voltage
CHINT from China (famous brand)
electric appliance
homogeneous
China
emulsification head
electric heating tube
China
hot water
China
circulating pump
2. Working Principle
● Material Heating Process
Please electrify the suppository preparation mixer, according to the regulation for operation, to open the heating and circulating pump. When the temperature get to
the setting temperature, put the raw materials into the medicine tank, the raw
materials will start with the heat flow.
● Homogeneous Process
When the raw materials are heated as paste type, the worker can set the homogenizing time, please open the homogeneous switch, the raw materials will start homogeneous emulsification to get to fluid liquid homogeneous state, then add the main ingredient for homogeneous emulsification.
● Suppository Medicine Output Process
Please open the suppository medicine outlet ball valve, the medicine liquid will flow into the specified instruments, and pour into the suppository filling materials storage tank. The residual liquid will continue to heat preservation and emulsification.
● Equipment Advantage
1. with small occupied area;
2. easy operation and convenient maintenance
3、continuous and steady operation
4、uniform mixing and good emulsification effect.
3. Spare Part List
| | |
| --- | --- |
| Name | Quantity |
| electrical resistance heating rod | 2 pcs |
| fast-twist connector | 1 pc |