Samples of Softgels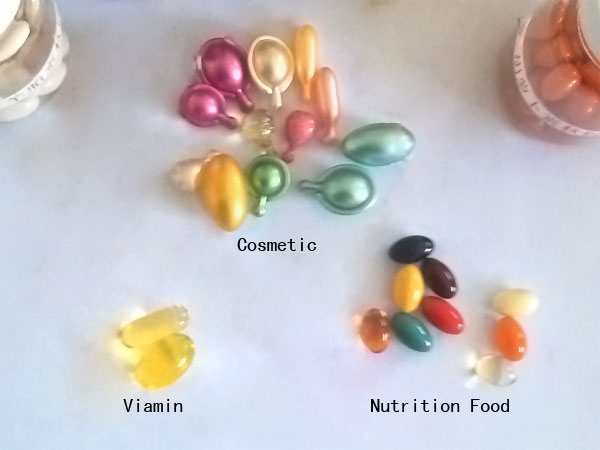 Machine Introduction
YWJ100-II fully automatic softgel encapsulation machine is elaborately designed on the base of old YWJ100-IP and according to the requirements of GMP standard. It is a simple and efficient laboratory machine mainly for R&D or small scale production of softgel capsule products in laboratories or pharmaceutical researching institutes.
The whole set of the production line is simple and efficient with small space. It includes a main machine, control system, water-cooling system, lubrication oil saving system, a dryer, one set of mould, as well as an auxiliary HJG100-I gelatin reactor.

All the materials for the wholes set of the equipment are well selected to meet the GMP requirement, make it applicable for medical, nutrition, food, and cosmetic industries.
The Main Machine

The main machine is the center of the production line, which function is to simultaneously finish the preparation of the gelatin of ribbon, quantitative feeding of the content (liquid or sticky materials), and packing to form the capsules.
Main Technical Parameters
Mould Size (mm)
Dia. 80 X W: 100
Mould Revolution: (rpm)
0-5 Rpm (adjusted variable speed)
RPM means: revolution per minute
Volume of Plunger Pump
0-1.5 ml (adjustable continuously)
Pump Accuracy:
+/-0.5%
(filling volume not less than 500 mg)
Pump Type
8 plunger pump
Production Capacity :
maximum 8640 capsules
(20# oblong size capsule)
per hour hour
Power Supply:
1.8 kw, 360V 3 phases (can be modified as user's requirement.)
Weight:
400 kg
Machine Dimension: (LxWxH, mm)
1440x660x1350
● Photos of Machine Details
electric parts use Siemens and Schneider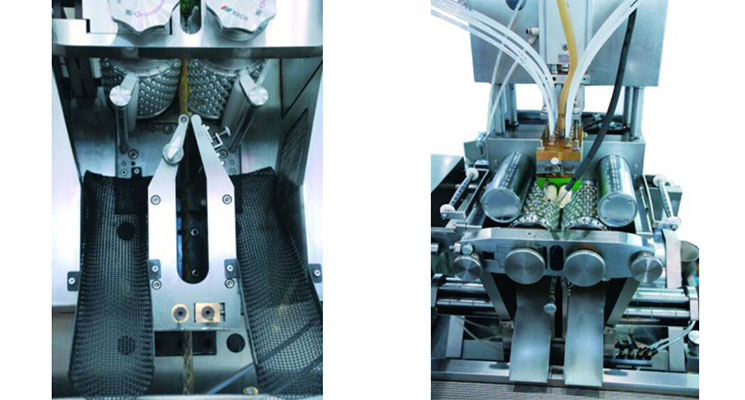 high precision mould, net gelatin cooling system