● Photos of Customer's Sachet Samples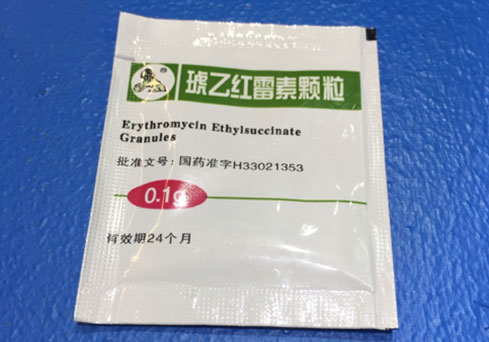 ● Use and Scope of Application
This machine run stable with compact structure, it is leading the advanced level of the same domestic t equipment, can be applicable for pharmaceutical, food, cosmetic industries. It can pack granule, powder, liquid and semi-sticky liquid four sides sachets.
● Performance and Characteristics
1. Performance
(1) With frequency conversion regulation motor, we can choose different
packing speed according to the packing product.
(2) The whole machine controlled by human-machine interface, is easy operation
and run stable.
(3) Photoelectric sensor to trail, automatic color patch guarantees to make
bag of two-side pattern accurate and integrity.
(4) Automatic type batch number, crossing tear breaking line and easy to
tear line function to use easily.
(5) Can adjust the width and length of sachet.
2. Characteristics
(1) The sealing area can reach 450mm, form 6 to 8lines.For powder only can form 6 lines
(2) The machine is a roll packing film which can be divided two parts for sealing, convenient adjustment.
(3) The position of implementing agencies is controlled and adjusted by differential mechanism through human-machine interface.
(4) The lengthways sealing, horizontal sealing, printing and cutting unit are installed two steel board which has enough rigidity to guarantee each bags with the same dimension.
(5) Layout is reasonable, small volume, nice appearance.
3. Technical Specification
(1) Pack material: Aluminum-plastic, paper- plastic and other composite material.
Specification: Width: Max 900mm
Thickness: 0.05-0.1mm
Membrane roll outer diameter:≤φ300mm
Membrane roll inner diameter:≤φ70~φ76mm
(2) The max sealing width :≤450mm
(3) Bag size: length:55~150mm;width:40~150mm
(4) Dose:granule:3~20g ;liquid:5~50ml ,powder:1~25g
(5) Cutting frequency:≤50times∕min , for 1.5g powder : max 35times/min
(6) Packing frequency: max400bags/ min
(7) Main motor power: 1.5kw model: LK-SNEOM rotational speed: 1390r/min
(8) Sealing roller heating power:1.5KW×4=6KW(φ22×540×4roller)
(9) Total power:7.7 KW
(10) Power source:380V 50Hz
(11) Size ( length×width×high): 1600mm×1620mm×2100mm
(12) Weight:1200kg
● Machine Structure
♢ Drawing of Main Machine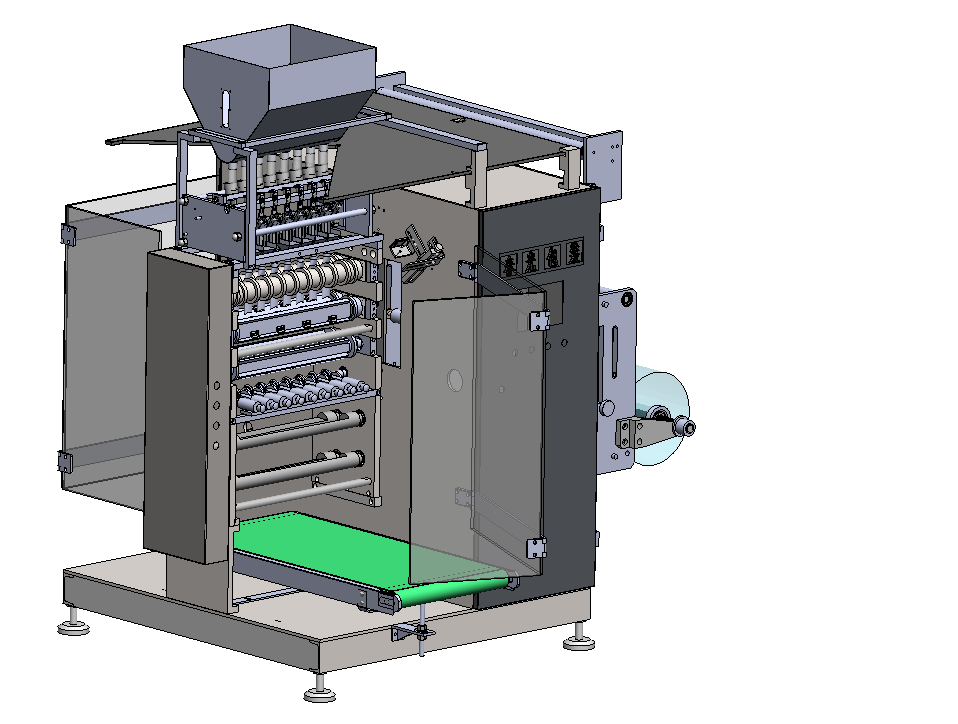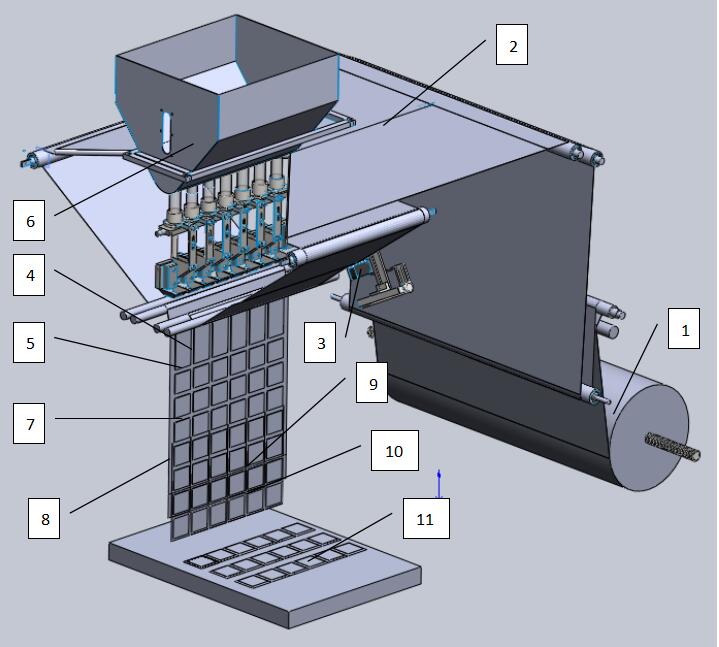 1. Unspreading roll 2. Cut 3. Eye-mark 4. Lengthways sealing 5. Across sealing
6. Filling 7. Embossing、easy tearing 8. Lengthways cut
9. Across easy broken line(up to the user)
10. Across cut 11. Transport
♢ Structure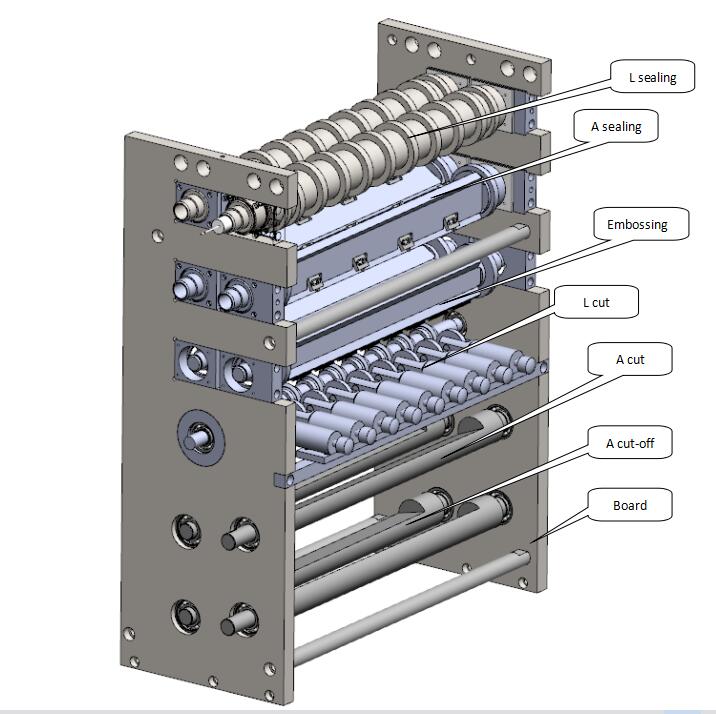 Across Sealing separately and the length of the bag size can be adjusted according to the customer requirements easily in the touch screen . It is controlled by Servo Motor.
♢ Lengthways Sealing Roller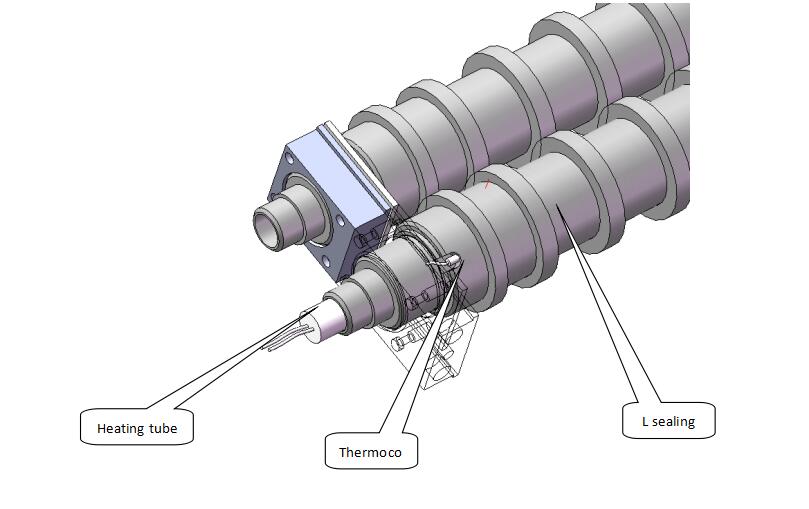 The material will be sealing by the lengthways roller firstly .
♢ Across Sealing Roller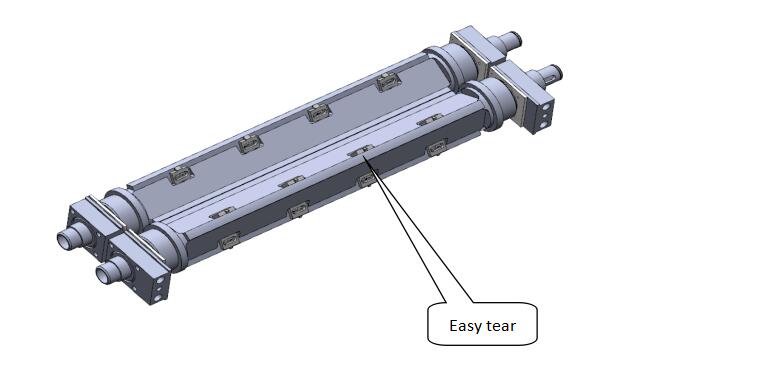 ♢ Roller Material Dividing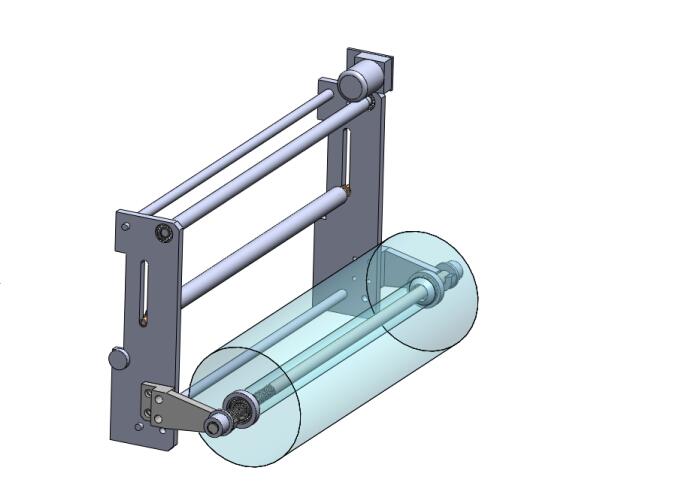 ♢ Spreading Roll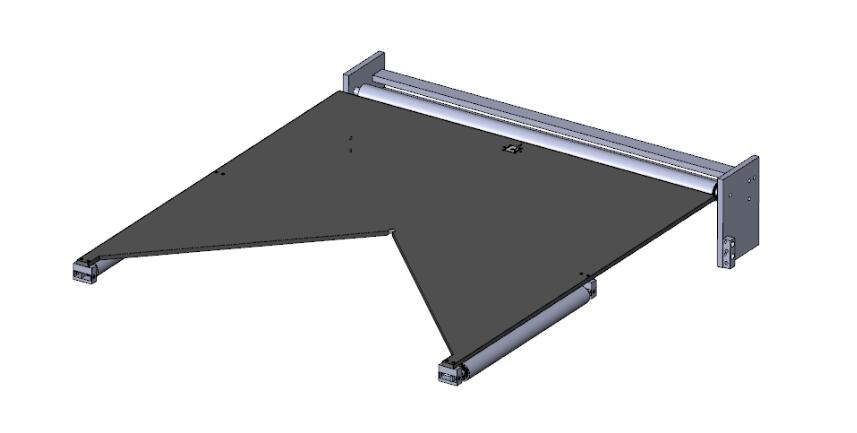 ♢ About Granule Feeder
♦ Standard Volumetric Feeder
(which is suitable for the granule which is with high and medium flowability, extra price is no needed)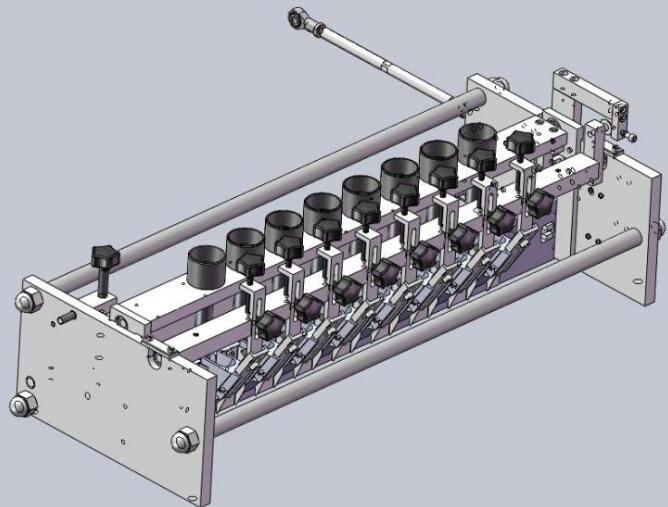 1. quantity of filling tracks: 3
2. individual servo motors
3. 40kg hopper
4. filling accuracy: 1- 1.5g ±8%, 1.5-6g ±7%, ≥6g ±3%
(Because the size of your granule is not average, so the packing accuracy 1.5-6g ±7%, it can only be guaranteed when we see the actual samples. ±7% will have change when we do the samples test. )
5. individual volume adjustment
6. material of hopper: SUS316L
7. funnels and auger screw: SUS316L
♦ Optional Screw Screw Feeder
(which is suitable for the granule which is with low flowability, extra price is needed)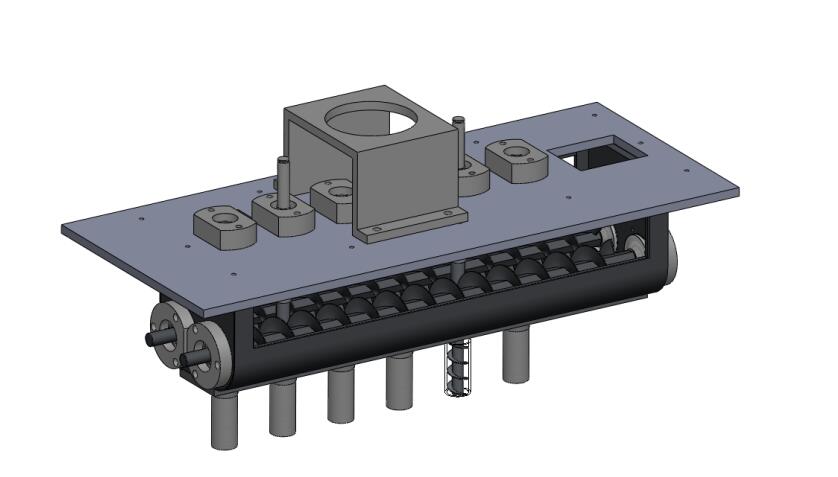 (the screw feeder is for powder products, for your reference)
1. quantity of filling tracks: 3
2. individual servo motors
3. 40kg hopper
4. filling accuracy: 1- 3g ±10%, 3-5g ±7%, 5-10g ±5%
5. individual volume adjustment
6. material of hopper: SUS316L
7. funnels and auger screw: SUS316L
♢ About Embossing(Production Data Number)
♦ Standard Steel Number Stamping System
(this system only can be one line, extra price is no needed)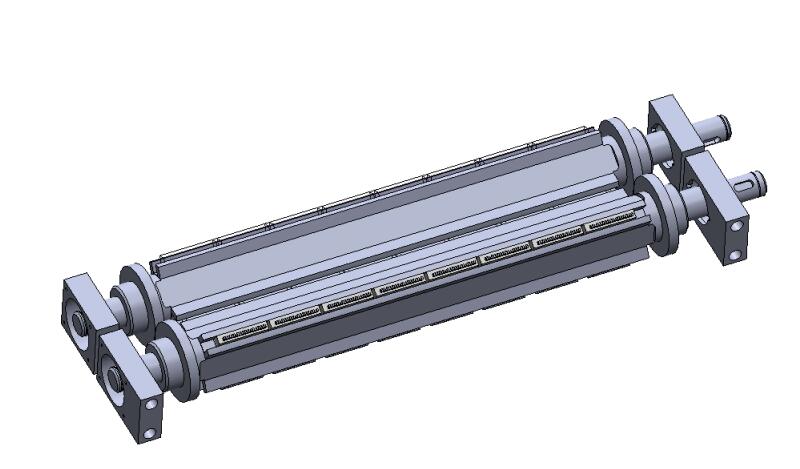 ♦ Optional Hot Ink Coding System
(maximum can 3 lines, extra price is needed)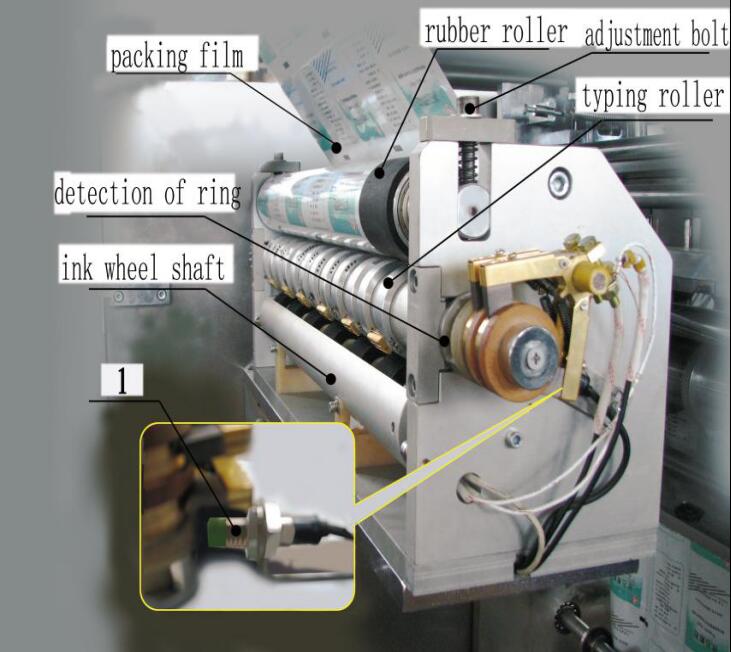 ● Photos of Machines In the Factory