● Samples of Customer's Mixed Flower&Tea Pyramid Tea Bags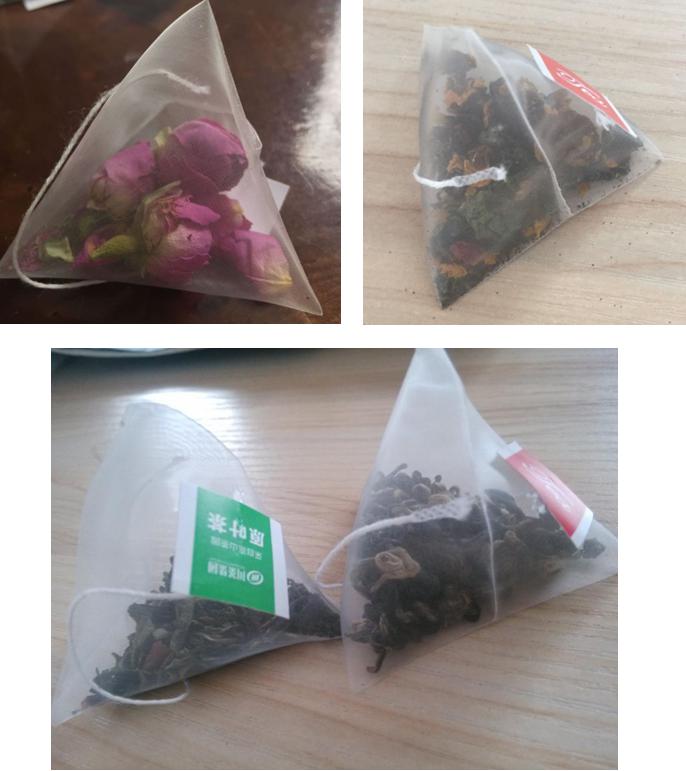 Photos of Machine Detail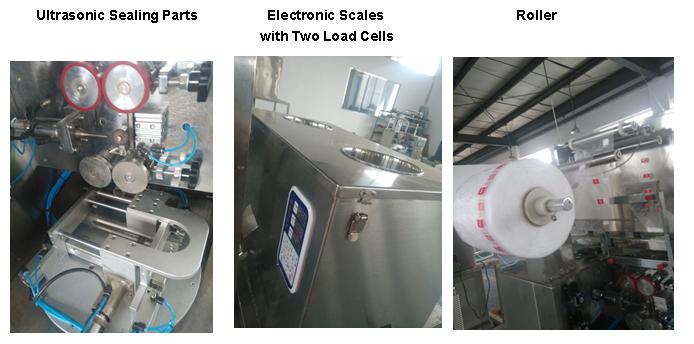 ● Machine Application
Automatically packing green tea, black tea, flower tea, health tea, herb tea, granules (mixed tea) etc.
● Machine Features
1. One-button can switch functions between flat bag and pyramid bag.
2. Packaging capacity: 40-60 bags per minute (determined by packing material)
3. Applicable packing materials: Nylon film, PET, PLA and Non-woven film with thread and tag
4. Electronic scale metering can be collocated according to the material attribute.
5. Sensitive touch Interface, Siemens PLC control, servo motor and whole setting functions
6. Operating flexibility through optional adjustment of technical parameters
7. Main motor overload safety device
8. Automatic adjustment device of packing material tension
9. Rotary filling method is optional. Envelope packaging machine can be loaded.
● Technical Parameters
Items
Description
Capacity
40-60 bags/Min (Determined by packing material)
Filling precision
≤±2% (Determined by packing material)
Bag size
60-80(W)*40-80(L)mm
Packing film
120mm、140mm、160mm
Sealing type
Pyramid bag or flat bag
Filling range
2-10ml
Film thickness
0.04-0.06mm
Packing material
nylon, Polyester net non-woven fabrics,
suitable for ultrasonic sealing materials
Total power
2.2Kw
Power
220V, 50hz, single phase 2.2kw
Air compressor
Less than 1 cube
Air consumption
0.6Mpa, 0.4m3/min
Rolled outer diameter
≤400mm
Dimension of machine
870x1100x1700mm
Dimension of wooden case
1180x950x1710mm
● Key Parts and Components List
Item
Model
Part Name and model
Brand
04KZQ-0152
RYH401F5-W2
Se servo motor
Fuji
04KZQ-0144
CP1E-N20DT-A
S7-200 PLC components
Siemens
04KZQ-0141
222-1BF22-0XA8
PLC
Siemens
04KZQ-0140
3G3JZ-AB007
ultrasonic
Taiwan
04KZQ-0042
AS57BSTD
touch screen
WEINVEW
from Taiwan
04KG-0094
CR-MX024DC24
intermediate relay
ABB
04KG-0095
13F-2Z-C1
intermediate relay base
ABB
04KZQ-0143
ABL2REM
power switch 24v
MEAN WELL
from Taiwan
04KZQ-0151
150-24
power switch 48v
MEAN WELL
from Taiwan
04KZQ-0153
DZ47-60 C10A
breaker
CHINT from China
04KG-0126
NP2-BS542
emergency stop button
CHINT from China
04KG-0127
NP2-BA31
start/ stop button
CHINT from China
04KZQ-0174
SD-20806
stepping motor
China
● Advantages of Electronic Load Cells for Electronic Scales
1. It is suitable for leafy tea
2. It can pack the tea leaf in a fast speed without breaking the tea leaf. Like, green tea, flower tea, and flavor tea.
3. It can mix the tea in the load cells. Two load cells, four load cells and six load cells are available
4. Tea powder and tea granules are suitable. Like tea powder, and tea dust.
● Packing Raw Materials Supply
We can also provide pyramid tea bags packing materials with string and tag, such as nylon, non-woven fabrics, corn fiber , and other ultrasonic sealing materials.